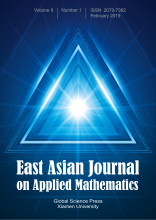 East Asian Journal on Applied Mathematics
Electronic: 2079-7370
ISSN Print: 2079-7362
Aims and Scope
The East Asian Journal on Applied Mathematics (EAJAM) aims at promoting study and research in Applied Mathematics in East Asia. It is the editorial policy of EAJAM to accept refereed papers in all active areas of Applied Mathematics and related Mathematical Sciences. Novel applications of Mathematics in real situations are especially welcome. Substantial survey papers on topics of exceptional interest will also be published occasionally.
Impact Factor:1.660
5-Year Impact Factor:1.429
CiteScore:2.20
EAJAM's most recent SCI impact factor (2020) is 1.660. It is ranked #103 among the 265 applied mathematical journals.

Our Associate Editor Professor John P. Boyd has been elected as a Fellow of Society for Industrial and Applied Mathematics (SIAM) in 2020.

Congratulations to our Editor Michael Ng who was awarded the 2017 Feng Kang Prize.

Featured Articles more

A Stochastic Gradient Descent Approach for Stochastic Optimal Control

by Richard Archibald, Feng Bao & Jiongmin Yong, East Asian J. Appl. Math., 10 (2020), pp. 635-658.

Scale Prevention by Ceramic Balls

by Hideo Kawarada & Olivier Pironneau, East Asian J. Appl. Math., 9 (2019), pp. 424-446.

The Breakdown of Darboux's Principle and Natural Boundaries for a Function Periodised from a Ramanujan Fourier Transform Pair

by John P. Boyd, East Asian J. Appl. Math., 9 (2019), pp. 409-423.

Open Access Articles more

A High Order Well-Balanced Finite Volume WENO Scheme for a Blood Flow Model in Arteries

Zhonghua Yao, Gang Li & Jinmei Gao, East Asian J. Appl. Math., 7 (2017), pp. 852-866.

Pinning Effect on Current-Induced Domain Wall Motion in Nanostrip

Lei Yang, East Asian J. Appl. Math., 7 (2017), pp. 837-851.