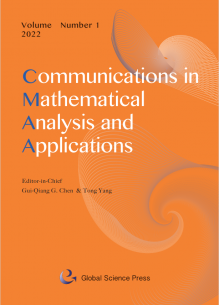 Communications in Mathematical Analysis and Applications
Editors-in-Chief
Gui-Qiang G. Chen , Renjun Duan and Tong Yang
Editorial Board
Aims and Scope
Communications in Mathematical Analysis and Applications (CMAA) publishes research papers relevant to mathematical analysis and its applications. CMAA publishes original research articles of high quality on a topic in Real and harmonic analysis, Complex analysis, Numerical analysis, Partial differential equations, Dynamical systems, Control and optimization, Probability, Mathematical biology, Statistics etc.
Impact Factor:
5-Year Impact Factor:
CiteScore:
The first volume of CMAA will be published in January, April, July, October 2022.

2022-03-18

The editorial board of CMAA is formed in August 2021, with Editors-in-Chief Professor Gui-Qiang Chen from Oxford University and Tong Yang from City University of Hong Kong.

2021-09-17

Featured Articles more

Vector Fields of Cancellation for the Prandtl Operators

by Tong Yang, Commun. Math. Anal. Appl., 1 (2022), pp. 345-354.

On the Brachistochrone Problem

by Philippe G. Ciarlet & Cristinel Mardare, Commun. Math. Anal. Appl., 1 (2022), pp. 213-240.